I bought a cat toy for Minnie in the US and it's called "Eeek Mouse" from
"fatcats, inc."
and it has "zoom around the room" catnip in it.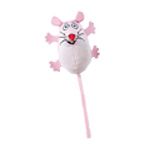 This hilarious looking mouse is by far the most amazing cat toy ever created. At 16 1/2 years old, Min absolutely adores it! She flips it around at least once a day, bites it, licks it, and rolls all over it. They do guarantee that your cat will love it and they are fucking correct!
God, I just gave a big commercial endorsement, but occasionally, you just have to!